Traveling in the USA is one of the many benefits to becoming an au pair. And lots of our au pairs are venturing beyond their local areas to explore some exciting destinations on host family trips and in their own free time.
Monica, from Mexico, had never been to the U.S. before joining the Au Pair Program. She has now visited several states, and was amazed at her unique experiences in each one. Based in New York City, she travelled with other au pairs to Boston and Arizona, which were both on her wish list, as well as California and Nevada. "The travel was even better than I expected," she said.
Perhaps if she had to choose her best travel experience, it would be spending Halloween in Salem, Massachusetts — one of the oldest cities in the U.S., famous for its 1692 witch trials and historical houses. And where is next? Monica is a huge Disney fan and is thrilled to be going to Orlando, Florida in her two weeks of vacation, and will also take a trip with her host family.
Irina, from Spain, had only been to the United States once, to New York with her mom, before becoming an au pair. In her first three months, she has visited Michigan, and her dream destination Colorado, with her host family. A keen traveller, she loves exploring the great outdoors with her hosts, and together they spent one month in Colorado's Steamboat Springs.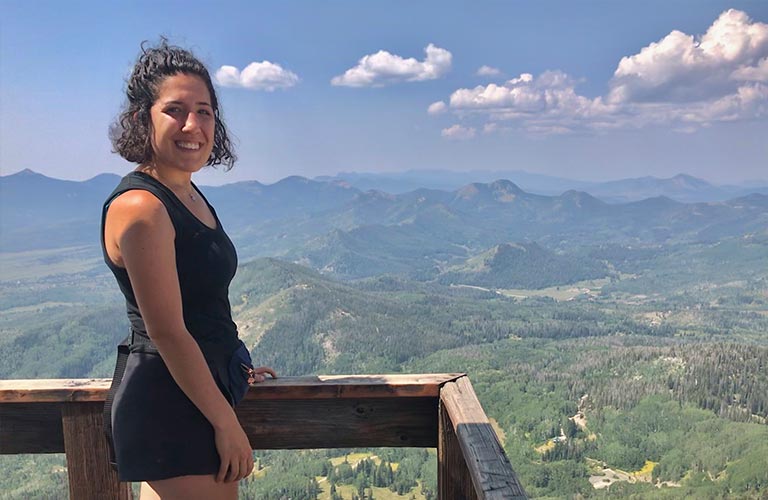 They hiked in mountains that Irina found "breathtaking" and she went paddle boarding for the first time with the kids. Another highlight was spotting a moose with her baby! Irina also learned about alpine wildflowers with the family. "Every time we went hiking we took pictures of the flowers and then we checked their name in a book and wrote down the day and the place we saw them," she said.
Irina is keen to see more of the US — before leaving, her aim is to visit as many cities and states as she can. Washington State is another 'must-see' destination, so she has already booked a trip to Seattle.
The vastness of the USA is also appealing to Andrea, from Mexico, who took a road trip with another au pair. They stopped at Connecticut, North Hampshire, Rhode Island, Maine, Massachusetts, Vermont and New York. "We got to see many places and small towns that we hadn't planned to visit," she says.
But perhaps her most unforgettable trip was to Fairbanks, Alaska. She saw the Northern Lights and bathed in hot springs, when the sub-zero temperatures meant that her hair froze! "I had never thought I would be there one day, so I felt so happy and grateful," she said. "It was an experience that I would like everyone to have."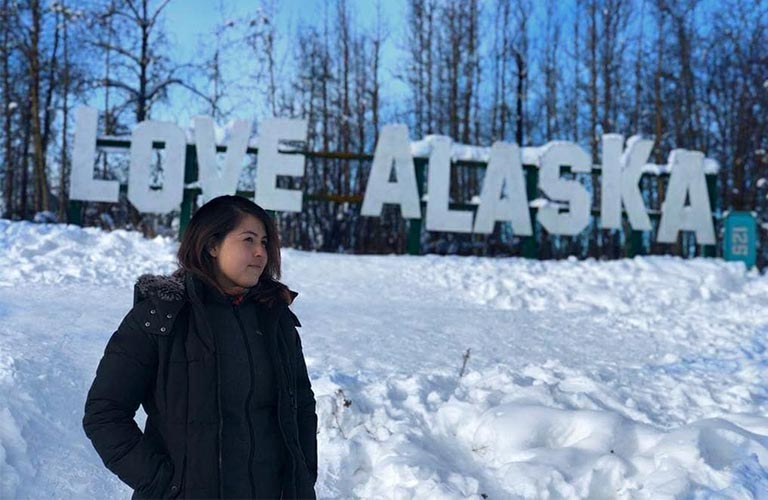 Andrea's hosts also gave her the opportunity to try skiing for the first time, and other fun outdoor activities. The family has traveled to winter destinations Buffalo, New York State, and Horseshoe, West Virginia. They also visited the Outer Banks of North Carolina, known for its tranquil beaches and water sports.
As well as her love of nature, Andrea also enjoys visiting monuments, art museums and the locations that she's seen in the movies! At the end of the program, she's planning to go on a second road trip, visiting the West Coast and to see a Broadway Musical in New York.
With possibilities of host family trips, two weeks of paid time off, and a 30-day travel period at the end of the program, au pairs are finding that they have fantastic opportunities for travel (among other benefits 😊 ) in the United States. And some au pairs take a completely different approach to traveling in the USA: read how au pairs have taken fun and rewarding shorter trips, closer to home.