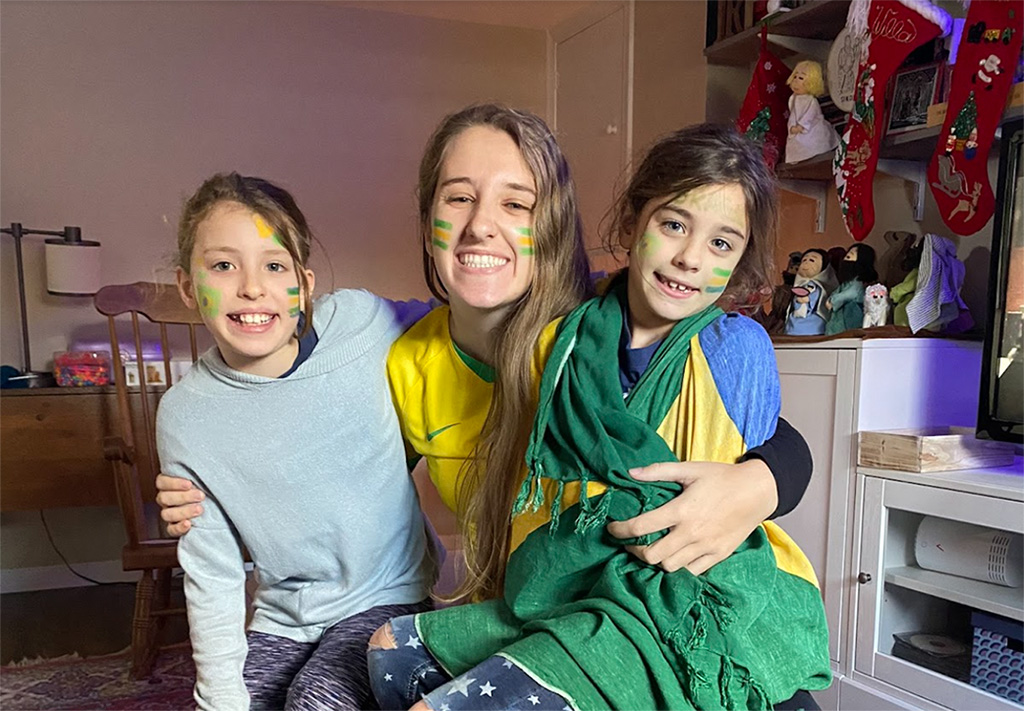 Super Au Pair Finalist Ariane from Brazil wasn't even sure she'd be able to participate in the program and arrive at her host family's home when she found herself in a Brazilian hospital the day before her flight to the U.S. Ariane apologetically called her host family hours before she had planned to board her flight, nervous what their reaction would be. Could they wait for her medical crisis to be resolved? Ariane knew they needed an au pair right away. To her delight, the first words her host family spoke after hearing about the situation was, "Ariane, you are our au pair. We are going to wait for you." Two weeks later Ariane arrived in good health and ready to get started.
Since Ariane's arrival in April 2022, she and her host family have bonded over a number of common interests. For one, they're both avid scouts and campers. Ariane often joins her host family on camping trips and has even led scout meetings for her host children. Everyone in the home loves learning about other cultures and languages. Ariane often cooks Brazilian foods for her host family, visits Brazilian bakeries with her host kids, teaches them to say words and phrases in Portuguese, and even gets regular requests for her famous Brazilian brigadeiro sweet treats for everyone's birthdays. "It's not just the birthdays, it's the whole birthday week: the birthday party and the actual birthday", Ariane says with a smile.
Ariane has also learned more than she thought she would when it comes to cultural exchange. Since her host children study French and Spanish, she is picking up two new languages in providing homework help for the kids as part of her afternoon routine.
Ariane really stepped up to the plate when her host dad had to travel for 5 weeks this past fall. She was an invaluable resource to her host mom and host children, helping with back-to-school routines and co-parenting support. Her host dad said, "Ariane was there to support my wife and my family, not just to get them where they needed to go, but also for emotional support."
Ariane says her host family has exceeded all her expectations of what she imagined her au pair experience would be like. They treat her like a true member of the family. She enjoys having dinner with them each night and spending quality time together on the weekends, even when she's not working. "I spend time with them because I like to be with them. We have a really good relationship. It's more than just work." Congratulations, Ariane, on being a 2022 Super Au Pair Finalist! Watch Ariane's story and others.