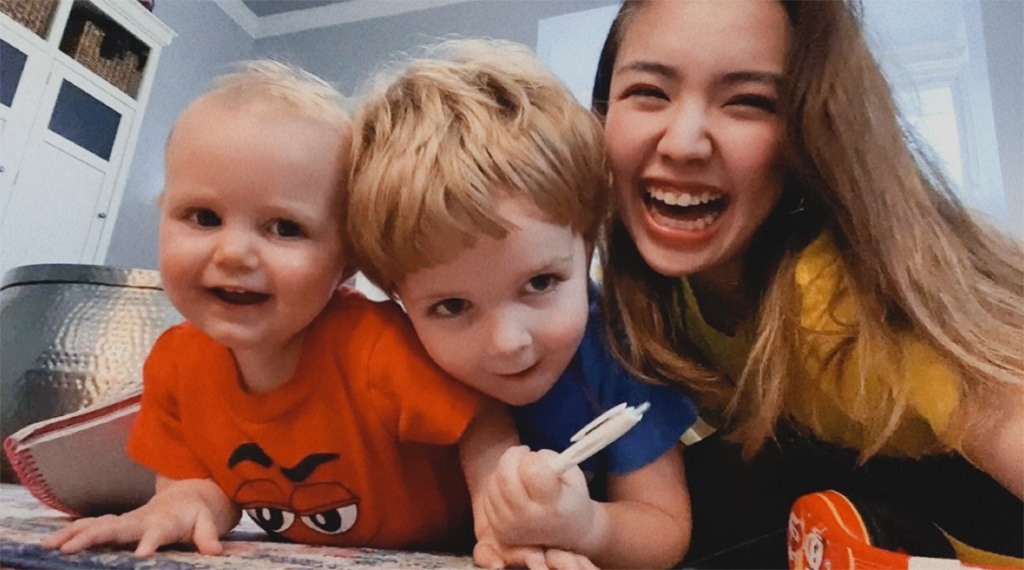 Before deciding to become an au pair, Super Au Pair finalist Nana was a kindergarten teacher in Japan. She thought coming to the U.S. would be a great opportunity to use her childcare skills, improve her English and experience a new culture. Since her arrival in March 2022, her au pair experience has by far exceeded those expectations. "My host family has been like a real family, taking me to different places and going out on weekends. That makes me very happy and is one of my favorite things about living in the U.S."
Nana's host family thinks she is a super au pair because caring for two toddlers (one and three years old) with lots of energy is no easy job. Her host mom says, "We just love how caring and kind she is with the kids and all the fun projects she does with them, such as painting, cooking, teaching them to play the piano and teaching them Japanese words." Nana's host child, who is just three years old, says, "Good morning" to her in Japanese every day!
Nana has made so many wonderful memories in her program year through this cultural exchange experience. "I love American culture! Because of holidays like Halloween and Christmas, events are so fun in the USA!"
Her favorite part of being an au pair, though, has undoubtedly been watching her host kids grow. When Nana arrived, her host children were three years old and six months old. Seeing her host baby learn to walk and talk especially and seeing her other host child learn to love school when he was initially scared to go were some of the most special milestones Nana says she experienced during her program year.
Nana never imagined she'd be selected as Au Pair USA's Super Au Pair Finalist. When her host mom told her the news, she was very surprised! It was just another way the au pair experience has exceeded her expectations.
Nana's au pair program will come to an end this March, and she has dreams of visiting Australia after her return to Japan. Nana says of all things, she will miss her host family most, but plans to remain in contact via texting, video calls and social media. Congratulations, Nana, on being a 2022 Super Au Pair Finalist!