Au pairs come to the United States for a variety of reasons: learning about U.S. culture, making an impact on the communities in which they live, and making memories they'll remember forever. Over the course of their program year in the USA, au pairs hopefully achieve each of these goals. However, a few au pairs were able to do all three in a single day, by volunteering at the 2021 New York City Marathon.
A culture of sports
Pushing one's body to run 26.2 miles (42.2 kilometers) – the length of a marathon – may seem like the most punishing sport imaginable. While none of the au pairs were runners themselves, many are interested in learning more about sports as they relate to U.S. culture. "There's so much I don't understand about sports in the USA," says au pair Taís, from Brazil. "But I enjoy learning!"
Making an impact through volunteering
With this same love of learning, about a dozen au pairs gathered at the 2021 TCS New York City Marathon on the chilly morning of November 7, 2021. They joined a group of volunteers from many other countries at the 18th mile (or 28th kilometer) of the marathon. Many regard this stretch of the race as the most difficult, as it's so close to the finish, yet a significant amount of distance remains. Because of this, runners often need a boost at this point. The volunteers at the Mile 18 marker were there to pass out cups of water and Gatorade.
Alejandra, from Mexico, was amazed at the runners' determination: "often they just grabbed the cups without slowing down," she said.
Local Coordinator Nancy also inspired the au pairs to shout words of encouragement as racers ran past. "I did a marathon in the past," she said. "So I know how much the runners need support at this stage of the race!"
This energy was crucial for Alejandra: "I didn't think I was going to make it because I had to travel from Philadelphia to NYC and I was tired. But as soon as I got into the volunteering station and started to meet new au pairs and feel the energy of the people and, of course, the runners, my whole mood changed. It was really pleasant to support the runners. I particularly enjoyed looking at the people who were running for a reason, like their first marathon or in honor of some family member."
Memories that will last forever
What did au pairs learn by the end of the day? "I feel like I learned more about Americans' love of sports," said Estrella, from the Netherlands. Alejandra felt a personal connection at the end of the day volunteering: "For me, the runners' race reminds me of my own journey in order to become an au pair in the United States and I've enjoyed every single minute on this path..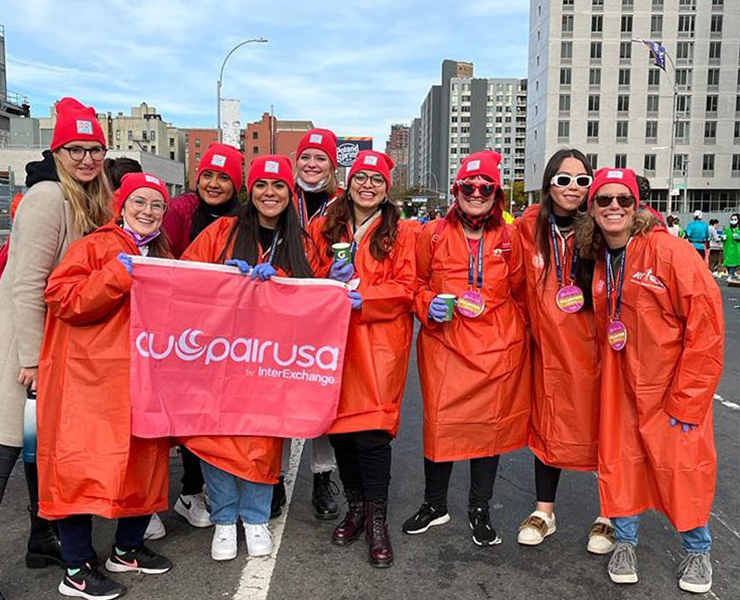 Running is just one of many athletic activities that au pairs encounter during their time in the USA. Americans love a variety of sports, and we've found that au pairs learn a lot about U.S. culture by attending a game or match. Read more about how sports are an important part of cultural exchange here!