---
Being an au pair is the adventure of a lifetime! Before you become an au pair in the USA, you and your host family must go through an application process with a legitimate, U.S. Department of State designated program sponsor like InterExchange Au Pair USA. This is to keep you safe and to make sure that you have an amazing experience.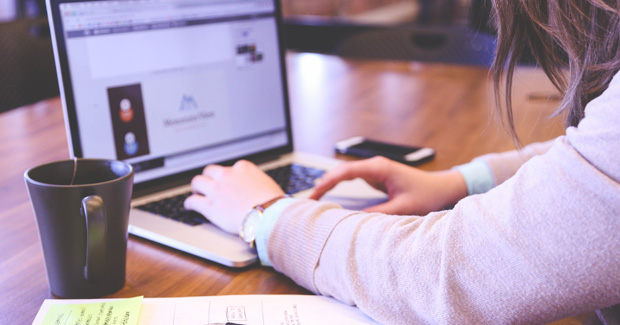 Unfortunately, some internet "scammers" try to take money from young adults who want to be au pairs. With the proper precautions and sound judgment, you'll have no problem avoiding au pair scams.
Typical Au Pair Scams
Targeting you no matter where you live.
Scammers will tell you that you can be an au pair regardless of what country you come from. Unfortunately, this is not true. Au Pair USA recruits au pairs from 30 countries. There is no au pair agency in the U.S. that works with all of the countries in the world. Submit an inquiry to see if we work with au pairs from your country.
Contacting you directly and making an offer.
Scammers may pretend to be a host family, fellow au pair, or an agency and will contact you through Whatsapp, Facebook, or email to make you an offer. They'll send fake application documents and ask for payment. Their message may be very long and contain many spelling errors. All host family and au pair matches must go through an au pair agency.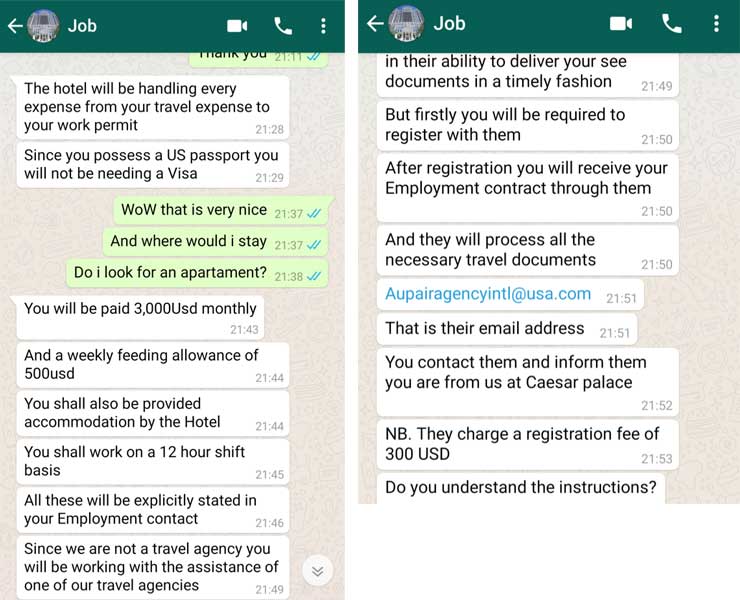 Posting in Facebook groups.
Scammers on Facebook use au pair groups and pretend to be a fellow au pair or a host family. If a scammer reaches out to you through Facebook, look at their profile. They probably won't have many photos or posts and might live in a part of the U.S. that we don't cover or even a different country. It is extremely uncommon for real host families to contact au pairs via Facebook. Host families must be connected to a designated program sponsor. Submit an inquiry to see where you can become an au pair in the USA.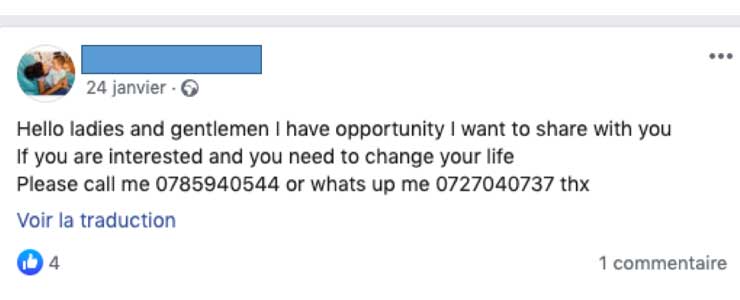 Refusing to video call with you.
If a person says they are a host family, but they won't do a video or phone call with you, it is probably a scammer. When you work with an au pair agency in your home country, they will meet with you in person. To officially "match" with a family, you must have a phone or video interview with that family.
Asking you to send your important documents.
Scammers may tell you to email them your identification (passport or driver's license) and payment for the agency, flights, or other fees. As an au pair, you will never send those things directly to your host family. Instead, you'll upload them to a password protected website.
Important Safety Reminders
You must work with a U.S. State Department designated au pair sponsor agency from the U.S.
As an au pair in the USA, you come to the U.S. on a J-1 visa. You're only able to get this visa by working with an au pair sponsor agency, like InterExchange Au Pair USA. You cannot come to the USA as an au pair without a designated sponsor.
You'll also have a local agency in your home country.
All international au pairs work with a local agency in their home country. The agency will help you through the application process and will meet with you for an in-person interview.
You will pay fees to your local agency.
There is a cost to join the au pair program, and this program fee is paid directly to your local agency. It is never paid to your host family or a third party. Scammers will provide Moneygram or Western Union details to potential au pairs – au pair agencies do not use money transfer providers.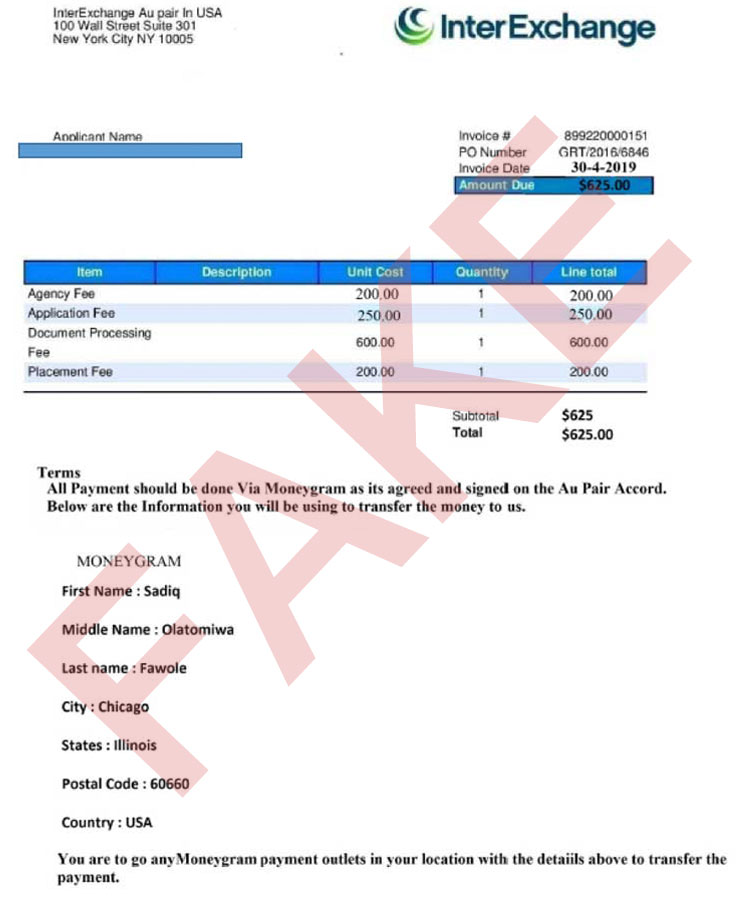 You won't talk to host families until your application is complete.
You'll only begin talking to our screened host families after you have completed your application and interviewed in person with the agency in your home country.
You'll use our online portal to connect with host families.
Our families and au pairs communicate with each other using our exclusive online portal. This is a closed online community and a safe system for families and au pairs to meet and match with each other.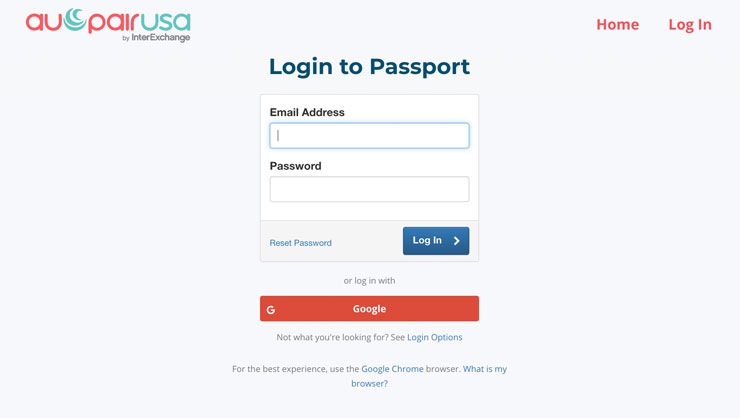 Never give out your personal information to someone you do not know.
Never send your passport, driver's license, bank details, or other personal information directly to someone you do not know.
Your application materials are all online in Passport, our protected portal. Families do not send these to you, and you won't send them directly to families. Only our authorized agents in your home country can register you into the system.
All emails from InterExchange staff will end in @interexchange.org.
Your local agency will have an email address that ends in a business name too. Anyone claiming to be an au pair agency but emailing from a free service provider, such as Gmail or Yahoo, is most likely a scammer. Anything from "@usa.com" is probably a scam.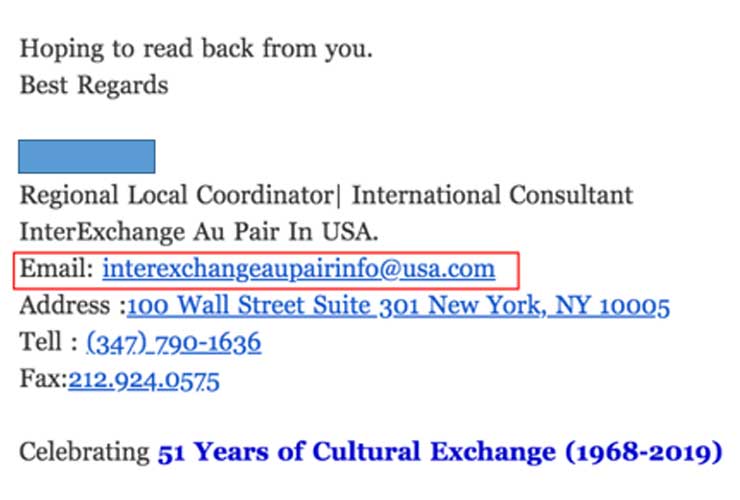 We value your safety and are here to support you! If you think a scammer has reached out to you, please contact us to report the incident.
To start the application process, submit your information, and we'll get in touch with you soon.