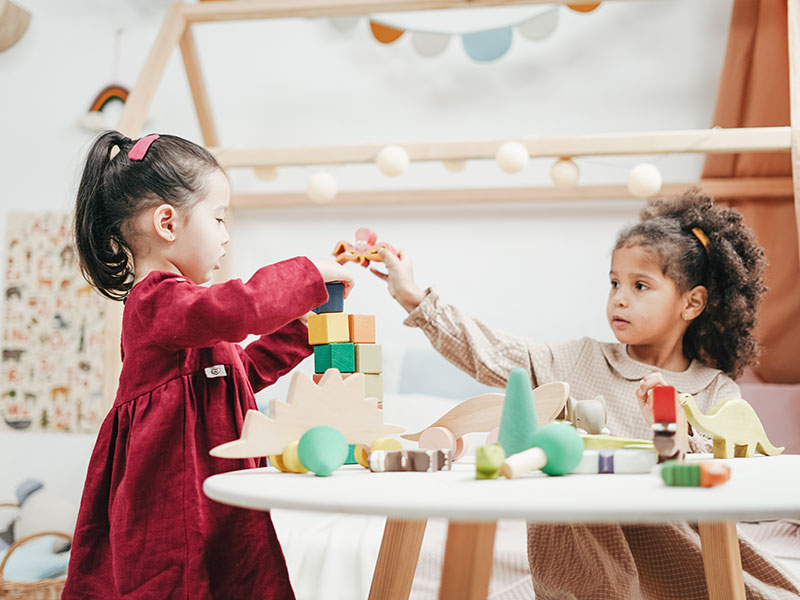 Choosing the right childcare provider is a daunting task for any working parent, especially when faced with the au pair vs daycare dilemma. You've likely researched many options to see what the best fit for your family and your budget is. You may have even asked parent friends or local social media groups to weigh in on their experiences. Ultimately, though, no matter what the sources say, it will come down to the choice you make of what feels most comfortable for you and will provide you with peace of mind when you're at work.
Au Pair vs Nanny vs Daycare: Weighing the Factors
It's not uncommon to compare the popular choice of utilizing a daycare or nanny compared to having an au pair. When it comes to breaking down the differences, here are the top factors to consider:
Flexibility
While daycares may be open from early morning to evening time, they tend to adhere to the traditional 9-5 work model and can have inflexible schedules. If your job, for example, proposes an unconventional schedule inclusive of weekends or nighttime hours, a daycare likely won't work for you. Additionally, if your last meeting of the day runs late or you hit traffic coming home, you may be faced with an upcharge at your daycare if you arrive even a few minutes late.
Au pairs are able to work a maximum of 45 hours per week and 10 hours per day. Their schedule can be as flexible as needed Monday through Sunday, with the exception of needing at least one and a half days off per week and one full weekend off per month. This allows for childcare coverage when you need it without having to reinvent the wheel every time your schedule shifts or changes.
Cost
Daycare may seem more affordable if you have one child, but the price often doubles with each additional child. Even with a sibling discount, daycare may quickly exceed your childcare budget.
On the other hand, the au pair cost of hosting remains the same no matter how many children you have, making au pair childcare often a more affordable option than your local daycare.
Individualized attention
It's wonderful for kids to socialize and make friends in a daycare setting, but it can also be a challenge to feel like your child is getting the attention and care they need when the child-to-teacher ratio is higher than you'd like.
Hosting an au pair allows your child(ren) to be cared for solely by one person, focused entirely on their needs. Additionally, au pairs can take your child(ren) to park playdates, the library, or group activities to ensure they're meeting other children their age and being exposed to fun events without sacrificing their personalized care.
Sickness
Daycares often have twenty or more children under their care. Such an environment is going to expose children to more germs and illnesses. And when your children do get sick, they won't be welcome back at day care for at least a couple of days. This means you'll have to juggle working-from-home with a sick child or you'll have to stay home from work entirely, using up valuable time-off. This can be problematic for your schedule and your career.
Hosting an au pair will minimize germ flow into your home. You won't have the germs of twenty other children (and their siblings, and their siblings' classmates) in the house with you every day. And when your children aren't feeling well, your au pair is already home and able to provide the same consistent level of care while you go to work. Your au pair can keep you updated on how the children are doing and provide the assurances you need to know they are getting the right care.
Live-in care
While you may appreciate compartmentalizing your childcare outside your home in a daycare setting, it can end up being a time consuming task to pack your child's lunch, get them dressed, and drop them off at daycare each day. Then, after working all day you still need to come home, make dinner, tidy up, do the laundry, and prepare the next day.
Since au pair childcare takes place in your home, you'll avoid a lot of this prep and commuting time. Au pairs responsibilities can also include assistance with chores like doing your children's laundry, tidying up their toys and bedrooms, and cleaning up after their meals and snacks. Since the care happens in the home, there is no commuting for drop off and pick up. Your children will be waiting for you when you get home!
Opportunity for cultural exchange
While some daycares may offer a bilingual environment, you may not always find teachers or curriculums that will prioritize new cultures and languages. However, the benefits of an au pair go beyond just reliable, live-in childcare. Hosting an au pair also provides the wonderful exposure to a new culture, language, and way of life right in your home. This unique arrangement not only ensures the well-being of your children but also enriches their lives through immersive cultural experiences – a feature that traditional daycare settings or nannies may not offer.
Get Started with Au Pair Child Care
If having an au pair feels like the right fit for your childcare needs, apply to host an au pair for free from the best au pair agency. Au Pair USA has been successfully placing carefully screened au pairs with American families for over 30 years. We look forward to helping you get started on your au pair childcare journey!