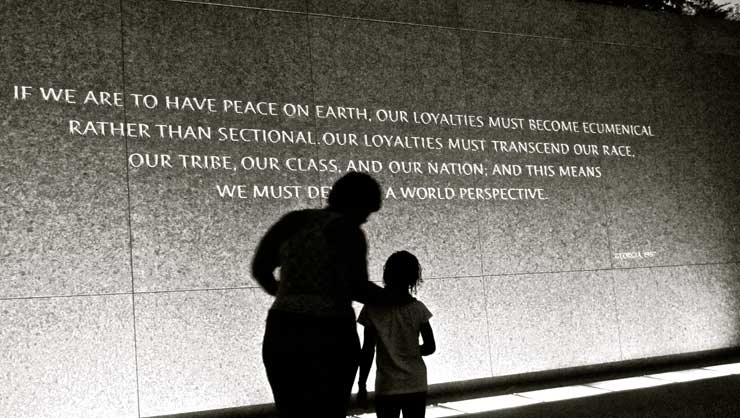 On the third Monday of every January, we observe Martin Luther King Jr. Day. This is a day for the nation to reflect upon the legacy of Dr. Martin Luther King Jr., a minister, civil rights activist and nonviolent leader. Dr. King was considered the most influential leader in the Civil Rights movement, which aimed to end the systematic racial segregation and discrimination against African Americans that plagued the country.
Dr. King (often referred to as MLK) played a key role in creating the Civil Rights Act of 1964 and the Voting Rights Act of 1965. He received many awards and honors – most notably the Nobel Peace Prize in 1964. Dr. King was assassinated in 1968. Despite his early passing, Dr. King had enormous, lasting influence on the Civil Rights movement and continues to be remembered as one of the most influential nonviolent leaders in world history.
Dr. King's Life and Major Achievements
Martin Luther King Jr. was born in Atlanta, Georgia, in 1929. As a boy, he attended legally segregated public schools, and graduated from high school at the age of 15. He obtained a B.A. from Morehouse College, attended the Crozer Theological Seminary for three years, and went on to earn his Ph.D. at Boston University. Following in his father's and grandfather's footsteps, he became pastor of the Dexter Avenue Baptist Church. As a minister, Dr. King was always a strong advocate for equality, and worked toward civil rights equality.
In 1955, he was recruited to serve as a leader for the Montgomery Bus Boycott. The Alabama city's bus lines were segregated by race, and African Americans were forced to sit at the back of the bus. When a 42-year-old woman named Rosa Parks refused to give her seat to a white man, she was arrested and fined. Four days after this event, African Americans around the city boycotted the bus service, often walking miles to work and suffering harrassment and intimidation along the way, for 381 days. As a result, the U.S. Supreme Court ruled that racial segregation in transportation was unconstitutional.
Inspired by Gandhi's success with nonviolent activism, Dr. King continued to organize nonviolent protests and civil disobedience as a way to fight for social change in Birmingham, Alabama, which was considered the "most segregated city in America" at the time. For example, "sit-ins" at racially segregated lunch counters and civil rights marches were organized. However, these efforts by the African-American community were often met with violence from the police. During a march, images of Birmingham police assaulting young African Americans with water hoses and dogs, injuring and bloodying them, sparked national outrage and a collective push for civil rights legislation. Dr. King was arrested, and it was during his time in prison that he drafted the "Letter from a Birmingham Jail," in which he explained his theory of nonviolence.
Dr. King was also instrumental in the 1963 March on Washington, in which more than 250,000 people demonstrated in the nation's capital. It was here that Dr. King delivered his "I Have a Dream" speech, in which he addressed the current situation and expressed his ideas of equality. Read this inspiring call to justice.
In 1964, at the age of 35, Dr. King became the youngest person to ever win the Nobel Peace Prize. In the same year, Congress passed the Civil Rights Act. This act made it illegal to discriminate on the basis of race in hiring, education, transportation, or any other sphere of public life. It also authorized the government to enforce desegregation, and outlawed segregation in any public place. Because segregation was so common, this act was extremely important. The March on Washington, along with the other movements in which Dr. King played a role, strongly influenced the passage of this act. One year later, in 1965, Congress passed the Voting Rights Act. Dr. King's voting rights marches from Selma to Montgomery, Alabama, were influential in this passage.
Toward the end of Dr. King's life, he began to widen his focus to economic justice and international peace. He was tragically killed by a sniper outside of his motel room in Memphis, Tennessee, in 1968. Despite his early and untimely death, Dr. King's tremendous accomplishments are remembered and celebrated.
MLK Day of Service
In 1994, Congress designated the Martin Luther King Jr. Federal Holiday as a national day of service. As a way to honor Dr. King's tireless efforts in the pursuit of social justice, as well as to embrace his teachings on community service, the MLK Day of Service urges people of all ages and walks of life to "make it a day on, not a day off."
We encourage you to join in your community and participate in the MLK Day of Service! You can find a project near you, as well as read more about Dr. King's life and legacy here.