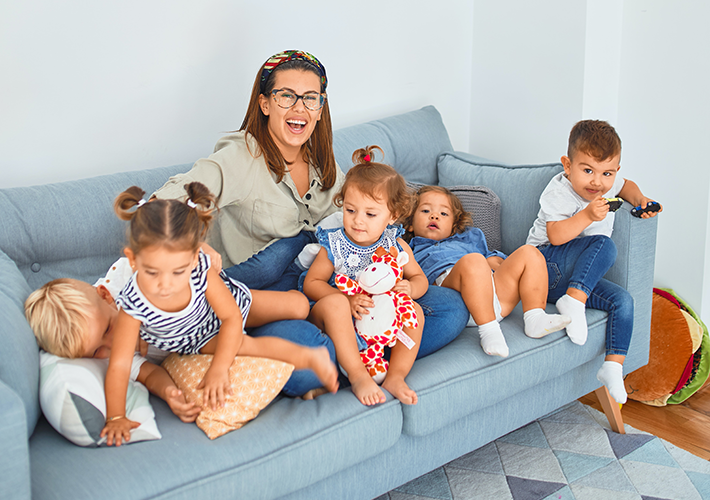 Every au pair has a vision of what their experience will be like in the U.S. Before the interview process begins, they might imagine their American host family to be like ones they've seen in the movies: a big house with a white picket fence, a dog, and one, or maybe two children.
While you may find a family like that, it's more likely that your host family will be different and unique. The families looking to host an au pair often have three or sometimes more kids. Sounds busy? It is…And that's why they need an au pair!
You might be intimidated by the idea of matching with a larger family, but we want to tell you some of the awesome benefits of being the au pair to a family with lots of kids.
There's always someone to talk to.

If you're worried about feeling lonely or homesick, matching with a large family can alleviate those concerns. You'll likely never be alone at home and can find a member of the family to chat with. You can also use that time to practice your English and improve your language skills more quickly.

It's never boring.

Thaina, a 22-year-old au pair from Brazil who takes care of four kids ages eight and under says, "The nice part about caring for four kids is that there's always something fun to do." When she's not playing with her host kids, she enjoys seeing how they learn from each other because they can play amongst themselves too.

You get bragging rights.

When Raquel, 25, from Mexico, decided to match with her host family of four young kids, she knew that, despite the challenges, she could do it and she wouldn't quit. Raquel said, "This type of challenge will change your life. If you can take care of four kids, you can do anything!" When she's asked how many kids she cares for as an au pair, Raquel says she feels powerful to answer that there are four of them.

Your experience will be more varied.

Babies are cute, toddlers are adorable, school-aged kids are learning and growing every day, and pre-teens and teens can probably tell you what will be the next cool thing. Having a variety of kids at different ages shows you a wider range of the developmental process and can make you a better au pair.

You'll be part of a team.

With larger families, you'll have to work more closely with the host parents to make sure everything gets done. This can lead to a very valuable mentoring experience for an au pair. You'll see how the parents prioritize the kids' needs and how they can best use your help. The best teams work hard and then appreciate their wins, whether big or small!
If you're currently in the matching process, it's important to remember to give all families a chance, not just the type you may have envisioned before joining the au pair program. Au Pair Raquel's advice is, "Give the big family a chance. At least do the interview. You can always say no to the match." When she was receiving interview requests, she didn't think twice about meeting her current host family because of the kind and heartfelt note they sent to her.
It's not about finding that family you've been envisioning, it's about finding the family that you connect with and feels right for you, whether they have one kid or five!