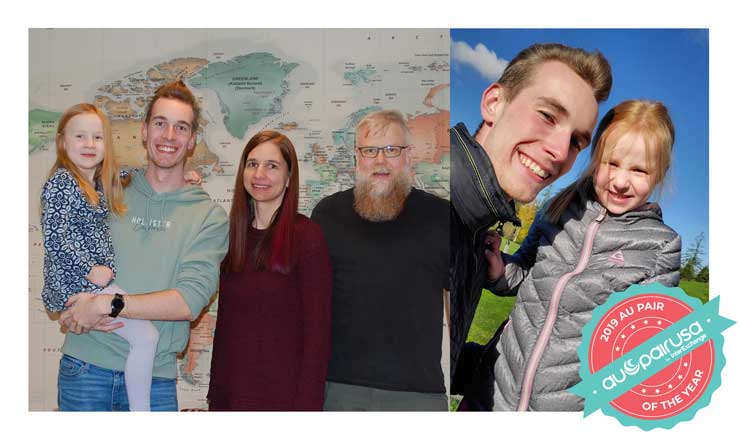 We're thrilled to announce our 2019 Au Pair of the Year, Hagen Kamieth, from Siegen, Germany! The Moore family of Redmond, Washington, nominated Hagen who arrived to the U.S. in July and has been caring for their six-year-old daughter, Kira.
Au Pair USA staff members across the U.S. voted for Hagen as our Au Pair of the Year! He's embraced the role of au pair, big brother, family member, teacher, organizer, cultural ambassador, and friend during this time on the program.
Hagen's host family had this to say about him.
"Our family nominates Hagen Kamieth for Au Pair of the Year! He has become a big brother to our 5-year old daughter and part of our family.
"Hagen quickly bonded with our daughter by learning about her interests and spending time playing with her. Hagen loves to play, which was a perfect fit for our daughter. He sends a photo nearly every day, which helps us feel involved even when we are at work.
"Our family is passionate about foreign languages and other cultures, and Hagen has done an excellent job sharing these with our family! Thanks to Hagen and our previous InterExchange au pairs, our daughter is fluent in German. He also shares holidays and family traditions with all of us. At the end of November, he surprised us with advent calendars! Our advent calendars were personalized for things we really love, which for us was a tea, hot sauce, and hello kitty calendar. Hagen made sure our daughter had a schultüte on her first day of Kindergarten! This is a cone filled with school supplies, candy, or toys which is given to children in Germany when they start school. Hagen also shares German language and culture as a volunteer preschool teacher at the Eastside German Language School on Saturdays.
"Hagen recently visited extended family with us in Wisconsin. Traveling with our daughter was so much easier with Hagen! He made sure she was entertained during the flight and helped care for her during the trip, including taking her snowshoeing. He even jumped in to help shovel the driveway during a winter snowstorm! Hagen has great relationships with our extended family, which really helps him feel like a member of the family.
"Hagen brings peace of mind to our family because we know he makes excellent decisions and is calm even in challenging situations. Because Hagen is such an excellent driver, we are comfortable with him taking longer trips with our daughter. In December, he took our daughter on a trip to ride THE POLAR EXPRESS™ train, which involved a two-hour drive in each direction. Hagen initiated, planned, and coordinated this activity to work with our daughter's school break.
"Hagen has taught all of us some techniques to help us stay more organized and, most importantly, works with our daughter to make sure she's learning to keep her things clean and organized. There has been a great deal of learning about our two cultures on both sides.
"Hagen's little brother (age 8) and his mom will be visiting from Germany in April, and Hagen already has a number of activities planned and has asked to include our daughter."
We at InterExchange think Hagen is terrific, and we're happy to name him our Au Pair of the Year!