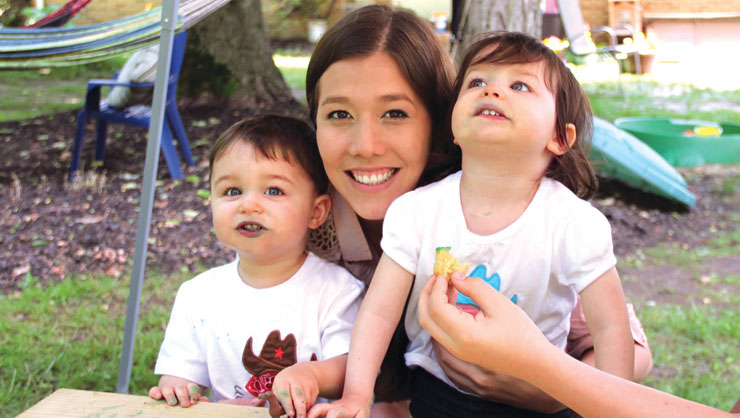 You've completed your host family profile, perused the database of available au pairs, and now it's time to interview your selected candidate. Interviewing your potential au pair can be exciting and nerve-wracking, but there's no need to sweat! Check out these top tips for interviewing and matching with your au pair.
Start with the basics.
Begin your conversation with a smile, and tell your au pair all about your family. Your potential au pair will be interested to know the unique personalities of your little ones, what your town is like, and how a typical day in your household goes. Keep things light, demographic, and informative. Don't forget to cover any special circumstances your household may have like dietary requirements or unique schedules.
Ask about their lifestyle.
Now that you've introduced yourselves, it's time to find out a little more about the personality of your au pair. Your au pair will not only be your childcare provider, she'll also be living with you as a member of your household. Ask questions to see how your daily patterns will fit together.
Try the following questions:
Are you a night owl or a morning person?
What are your favorite hobbies and interests?
How often do you spend time with friends? How often do you relax on your own?
These types of questions will give you an idea of what it will be like to live with your au pair on a day to day basis.
Discover their motivations.
Now that you've warmed up to one another, it's time to move on to the formal part of the interview. The question "Why are you interested in becoming an au pair?" is good but digging into past experience is even better. Ask your potential au pair about their previous childcare work- what was exciting about it? What was the best part? What was the most challenging part? This will give you some authentic insights into how your potential au pair feels about working with children and why she wants to be an au pair.
In this section, you can also ask your potential au pair how much she's traveled outside of her home country or lived outside of the home before. These questions serve as an indicator of how your au pair may adjust to the adventure of moving overseas.
Learn about their experience.
From there, you can ask the more typical questions about childcare experience. Try to avoid yes and no answers, opting for descriptive questions instead. Not only will this provide richer information, it will also give you a better idea of your au pair's English abilities.
Examples include:
What types of activities do you enjoy doing with children?
How old were the children you worked with?
Are you comfortable driving with the children in the car?
It's also important to ask situational questions. Ultimately, you are vetting your potential au pair on whether she can perform a job.
Go for pointed questions like:
Describe a time you had to handle a child who was not listening to you and was misbehaving. What did you do?
Describe a time where your activities for the children didn't go as planned. How did you adjust and adapt?
Situational questions help you explore your potential au pair's problem-solving style.
Interviewing your au pair is the fun first step in your relationship together! For more information, read our complete Host Family Interviewing Guide or check out a Local Coordinator's perspective on how to know if a specific au pair is a good fit for your family.