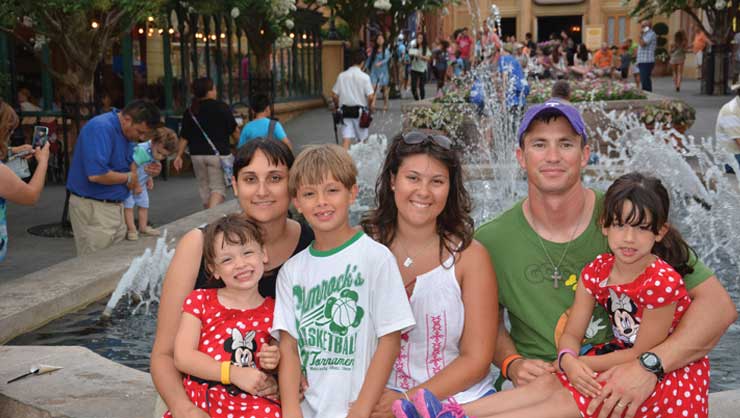 One of the best parts of being an au pair is the relationship that you'll form with your host family. These relationships often last a lifetime and many of our au pairs end up seeing their host families again years after the program.
We asked our au pairs to tell us about their host family. Here's what they had to say!
Laura from Colombia
My host family was so, so good to me! They were very patient and if I did not understand something they explained to me again. They never disrespect me and they always were very friendly. They make me part of their family and I always be grateful with them for all they did for me.
Luca from Germany
The whole family made me feel very welcome and all of their relatives gave me the feeling that I was really a part of the family. I enjoyed that it was always a give and take and that I was never treated as a "worker". I felt like a big sister with a lot more responsibilities. I had a lot of freedom in how I deal with my kids which was great because I felt like my host mom really trusted me. She always supported my decisions and I always tried to do things in a way she would do them too. She always showed me that she appreciated what I did which is a very important thing.
Ivana from Croatia
My family always helped me when I needed something, talked with me about everything, let me make decisions how to arrange kids duties, accept me as a part of the family.
Mariette from France
I have a very good relationship with my host family. They were open to discuss with me about the children. They help me a lot to travel and they gave advice to visit cities. They help me in general to make my life easier and pleasant in USA. I feel like I was part of the family and they share everything in their life with me. They are really nice people to live with and we have a good friendship today.
Leidy from Colombia
My host family was really good! I never had problems with them, I love and I miss them a lot. The work was hard but with good communication and support all is possible.
Luisa from Mexico
They were comprehensive, fun and friendly. They allowed me to take part of their family easily and keep my independence at the same time, which I was very happy about. They also always took care of me, making sure I didn't work excessively and although they were strict, they were also fair. They adjusted their treatment towards me as they gained confidence in my abilities. My host kid was one of the most wonderful little girls I've had the pleasure to know. She rocks.
Jeanine from Germany
It's always difficult to move in with people you don't know, so there are tense situations. But all in all I love and miss my host family and I can't wait to see them again.