You may have heard the term "origin story." Superheroes have them; it describes how they got their powers. Maureen was our 2020 Super Au Pair, and her origin story begins in Germany.
Maureen practices boxing and yoga, but her superpowers aren't physical; they come from her heart. In 2018 in Germany, Maureen began working with youth with special needs at a school for physically and mentally disabled children. Prior to this, in 2017, she worked at a camp that integrated disabled and non-disabled kids. "I fell in love with caring for children," she said. "But I also wanted to experience something new, so I started looking at being an au pair in North America."
Her curiosity led her to apply to Au Pair USA. "It was the perfect opportunity for me," she said. "I was able to combine my love for childcare with a curiosity to discover something new – to see and live in a whole new world and culture." During the matching process, she interviewed with a family with a teenage boy with special needs, and she felt a connection: "I knew they were the right family for me," she said.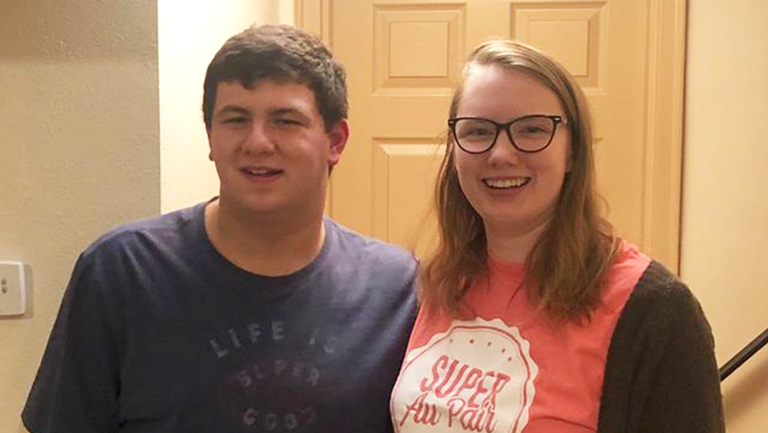 For the next 18 months, she was that family's au pair. "I developed my skills in patience, communication, and empathy," she said. These skills, as described to us by her host family in a heartfelt video, led Au Pair USA to choose her as our 2020 Super Au Pair (in addition to becoming a second place runner-up for the International Au Pair Association Au Pair of the Year Award!)
Maureen is now going home to apply everything she learned in the marketing field. Maureen observes that communication and empathy are key parts of authentic marketing. Her time as an au pair was great preparation.
Maureen's advice to current and future au pairs: "Try to connect with your host children and family. Teach them something they didn't know. And be persistent." One of Maureen's proudest moments was teaching Alex to tie his shoes. "The family had tried and tried, but gave up," she said. "I tried with a fresh approach and succeeded where no one else had."
Responsibility is another "super" trait. When Maureen arrives home, she isn't going straight to reunite with friends and family; she's quarantining for two weeks. Then, and only then, will she do something she's been looking forward to for almost two years: eating a big plate of her dad's home-cooked spaghetti!