Au pairs are important to many American families. However, they're uniquely important to families with parents in the armed forces. Au Pair USA chatted with members of two military families who are currently hosting au pairs. Bob Carey retired from the U.S. Navy in 2015 after serving for 30 years. Major Nicole Meruvia has spent 22 years in the military, and now attends the United States Army Command and General Staff College. We asked Bob and Nicole about their experience with au pairs and how the Au Pair program has been invaluable to them.
How has having an au pair supported your career and family life?
Bob supports veterans by advocating for them on Capitol Hill and with the Veteran's Administration and the White House. "Committee hearings, White House events, and Department of Veterans Affairs programs happen at all hours of the day and night," he says. "Having an au pair allows me to best advocate for military veterans as important events are happening, while also ensuring my sons get to school, are properly fed, and have adult supervision." Bob has been a long-time supporter of the Au Pair program; his current au pair, Michel from Costa Rica, is his third.
Nicole's experience with her au pair is more recent: Sandra joined her family in March 2020 during the onset of the COVID-19 pandemic and the resulting global lockdown. Nevertheless, Nicole says she's thrilled with her decision. "I don't have to rush to have a bag packed while I'm late for work," she says. Moreover, in contrast to many of her coworkers who struggle to find childcare, she feels supported. "I enjoy having the peace of mind of knowing my children are cared for."
Can you describe how valuable au pair childcare is to military families?
Bob notes that military families experience repeat and extended deployments that may last for a year or more. The military parent is completely unavailable to provide childcare in those cases. Furthermore, single-parent military families can have unusual hours for military duties. Au pairs provide a unique childcare capability to those families which can adjust to the unique demands of military service.
Nicole expanded on the unique nature of au pair childcare. With an au pair, she knew that her children would get undivided attention, with a caregiver-to-child ratio much higher than a daycare alternative. The bond formed between Sandra and her older son was profound: within two months she noticed he was affectionate towards Sandra (and before long started saying "I love you").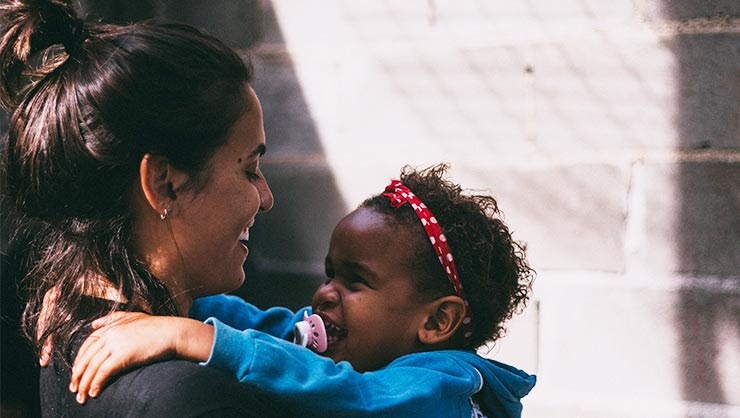 What would you say to someone who doubts the importance of the Au Pair program?
Bob is unequivocally supportive of the Au Pair program. "Au pairs directly improve military readiness by providing military families with childcare that can adjust easily to the unique factors of military life."
"Without au pairs," he says, "many of these military would not be able to continue to serve in the military, requiring the military to spend millions of dollars to recruit, train, and retain replacement personnel."
Nicole observed that the benefits of the program outweigh any costs. "Forget about doubts about costs or maintaining privacy," she says. "Those concerns are outweighed by the benefit of giving your child one-to-one, unconditional care and creating a friendship that's just as meaningful to the au pair as it is to your family."
Indeed, Nicole considers herself a mentor to Sandra, drawing a comparison with the military, where more seasoned officers mentor junior soldiers. She's helped Sandra set and achieve goals for the next step after being an au pair. "Sandra isn't an employee," says Nicole. "She's an extension of the family."
Interested in hosting an au pair? Military families may be eligible for a $1,000 discount on program fees. Learn about this and other special pricing here.