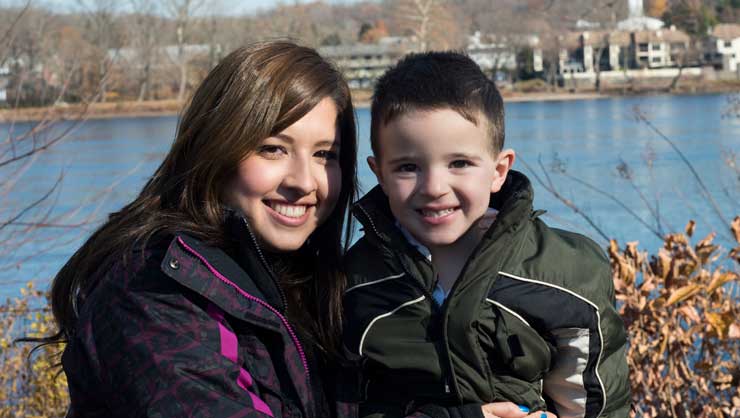 As your family grows and changes, so do your childcare needs. Whether it's swaddling a newborn or driving the kids to soccer practice, your au pair is able to step in and lend a hand.
Babies
Many of our host parents love having an au pair for their newborn. The first 12 months with your baby is a time when many key parenting decisions are made, from breastfeeding to cloth diapers to sleep methods. Your au pair will be by your side, taking your direction to care for your child exactly as you prefer. Not to mention, in-home childcare prevents the spread of germs and sickness that is common at daycares. It's important to remember that au pairs may not be the sole caregiver until your child is at least three months old.
Niko and I keep listening to Brazilian songs during our breakfast preparation before leaving to the playground. He's just 15 months but he already has some great samba moves, he's gonna be a real Brazilian samba dancer!

-Au pair Lucas from Brazil
Toddlers to Preschool
The newfound energy that your toddler has is exciting, adorable, and exhausting! Au pairs for toddlers can help with everything from preparing healthy snacks to playing in the backyard to calming your child down for naptime. We've even had au pairs help with potty training! During this stage of development, children are building vocabulary at a very rapid rate and may know several hundred words by the time they turn two. If assisting with learning a second language is one of your goals for hosting an au pair, the toddler years are a wonderful time to start.
Since hosting our au pair, I have more time to just 'be' with the children and play, I have been able to grow my business, and I have been able to take time out with my husband for the first time in years! We even started a regular date night.

-Host mom Kimberly in Washington
Elementary Age
The ways that your au pair can help with your kids from kindergarten to sixth grade are endless. At this age, we often see au pairs assist with homework, playing sports, enjoying time together after school, driving, and preparing meals. Your au pair is able to work split shifts, so they can get your kids off to school in the morning and then care for them again later in the day. Elementary age children are able to learn about and enjoy the cultural experiences that your au pair brings into your home, whether it's cooking a traditional meal or watching a cartoon in a different language. This brings the world to your kids without leaving your neighborhood!
Evelyn teaches the children about her country and her language. She even helps with some Spanish which the children are taking in school. The children learned the location of Brazil in relation to the U.S. and learned that it has the biggest rainforest in the world.

-Host mom Irena in New York
Preteens and Teenagers
Au pairs make great caregivers for preteens and teenagers, though in different ways than when your kids are younger. Your au pair can drive your middle schooler to activities, make sure your kids do their homework and family chores, enforce second language learning, and provide the peace of mind of having an adult in the home when the teens are simply hanging out. Au pairs often step in as a friend and listening ear during these formative years.
Selina backs us up as parents. She supports our vision for our family and how we want to raise our children. When the girls don't listen, she helps us follow through. She is a second or third adult to remind them to love one another, be a good friend, and to do their best.

-Host mom Jennifer in Georgia
Does au pair childcare sound like a fit for your family? Find out more info here.