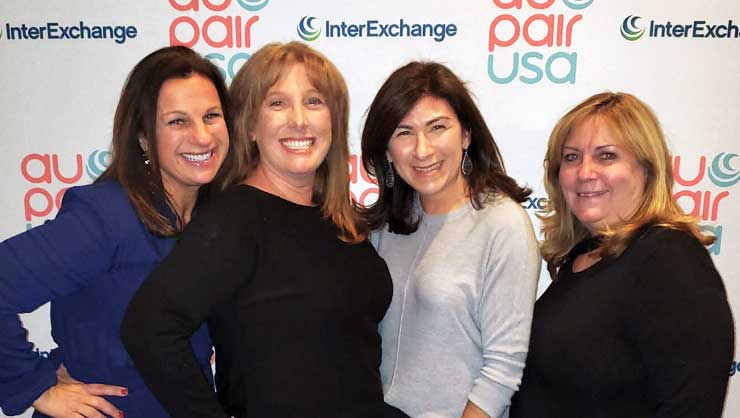 One of the unique benefits of hosting an au pair through InterExchange is the day-to-day support you receive from your Local Coordinator (LC). InterExchange's Local Coordinators are InterExchange employees who live in your community and work with you and your au pair throughout your program year. We are so proud of our dedicated and knowledgeable Local Coordinators, and we have a few tips on how to maximize your relationship with them.
Communicate, communicate, communicate!
It's a Department of State requirement to check in with your Local Coordinator on a monthly basis- this helps to ensure a smooth au pair placement. When your LC comes to your home for your arrival orientation, set up a recurring day and time to check in with them each month. This makes things smoother on all sides; you'll be ready for the phone call or email and your LC won't have to play phone tag! You can also confirm the day-to-day preferred method of communication with your LC, whether it's via text, email, or the phone, and note your LC's promised response time and business hours.
Use your Local Coordinator as a sounding board.
Your InterExchange Local Coordinator is there to help and loves to hear from you. While it's a Department of State requirement to check in on a monthly basis, we advise staying in touch regularly throughout your program year. As one of our LCs, Suzanne, puts it,
I want to hear about a problem when it's a drop instead of an ocean!
Local Coordinator Dina explains,
Host families should take a 'no matter how small' approach when they think of contacting us. I want my host families to either email or call me when they want advice, want to share a problem or just want to keep me updated. I find that the families that keep me in the loop during their program year are more likely to be successful because they are talking it out with me through the year.
Your Local Coordinator wants both you and your au pair to have a great experience with the program and staying in touch helps make that happen.
Utilize your Local Coordinator's knowledge.
Your Interexchange Local Coordinator is a great resource for you and your au pair. Your LC can help your au pair register for school, visit a doctor, plan a vacation, or come up with suggestions for activities to do with your kids locally. This means you don't have to figure things out all on your own- use your LC's past experience to avoid reinventing the wheel! Remember, your LC organizes monthly meet-ups for your au pair and an annual Host Family Day, so you can build relationships with others in the program. Finally, if you have questions about the structure and expectations of the au pair program, your Local Coordinator is ready and willing to clarify.
Having the support of an InterExchange Local Coordinator is a truly differentiating aspect of the au pair program. When you make the most of this great resource, the impact on your time with your au pair is clear! Read more about your Local Coordinator's role here.