When Ray (26) arrived from Colombia in December 2021 to take care of 12-year-old twins, Macey and Dylan, he felt comfortable from the start. His host family was warm and welcoming, and he was excited to learn that he and his host kids shared a lot of similar interests, like music and video games. Ray quickly bonded with Macey and Dylan. He loved teaching Macey how to play bass and introducing Dylan to old-school video games he himself had played as a tween.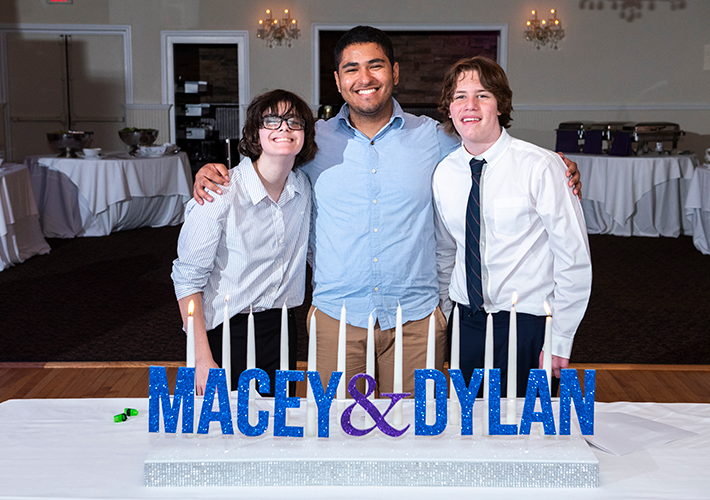 As an au pair, Ray's responsibilities included things like helping Macey and Dylan with homework and driving them to school and activities. Ray took these responsibilities very seriously, even in areas that were a bit unfamiliar to him.
Ray's host family is Jewish and while Ray had previously worked at a Jewish summer camp, he had a lot to learn about the religion and rituals as he'd never lived in a Jewish home before. Macey and Dylan were embarking upon a big year in the Jewish faith, receiving their B'Nai Mitzvah upon turning 13. There was a lot of preparation needed for this milestone.
Ray drove the twins to their weekly lessons at the temple. He also made sure they read aloud their portions of the Torah, even if he didn't fully understand what they were saying.
On the big day, Ray was invited to attend the service and festivities. It was his first time in a Jewish temple. Ray found the ceremony to be super interesting and was proud to have helped his host kids prepare for such an important event in their religion.
At a B'Nai Mitzvah celebration, it's customary to dedicate each candle on the cake to important people in your life. Macey and Dylan both chose to light a candle for Ray because he had made such an impact on their lives. When Ray heard a candle would be dedicated to him, he said he didn't know exactly what it meant. Once at the party, he realized how important it was and felt extremely honored to be featured as part of Macey and Dylan's lives in such a great way, alongside important people like his host parents and close friends and family.
When asked what the best part of his au pair experience has been to date, Ray said, "bonding with the kids". Ray has also made the most of his cultural exchange experience by learning about a new culture and religion from his host family and introducing them to Colombian culture by cooking up some of his favorite recipes.
What an incredible memory for Ray to receive such recognition from his host kids and make an impact on their young lives, one that his host family nor he will ever forget!